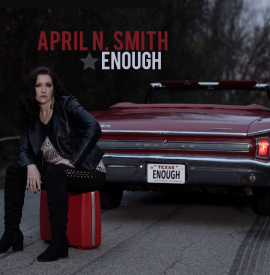 April N. Smith has been performing at local and church gatherings since her teenage years, when her Patsy Cline-inspired vocals first fueled a devoted fan base.  In 2007, Smith recorded "Where I Am," showcasing her love of gospel and country music.  Although never officially released or promoted, "Where I Am" was a very successful venture into the music industry. Soon after, raising her family took priority, but by 2017 the stage beckoned once again; this time with nothing to stop Smith from pursuing her life's passion for music.
Supported by a veritable dream team of professionals, Smith has been performing regularly while also writing and recording songs for a new, facts-of-life epic that is slated for release in 2021.  Produced by JB Patterson (JB and the Moonshine Band) and produced, engineered and mixed by Taylor Tatsch (Maren Morris), Smith's producers and band members have individually and collectively recorded and toured with Grammy-winning artists including Don Henley, Trisha Yearwood and LeAnn Rimes.  Randy Cline, founder of Time Matters Entertainment provides artist management.
Early in the process, Cline contacted Blue Heart Records president, Sallie Bengtson, to share Smith's story and the very personal songwriting that has accompanied it.  "As a fellow single mother, I felt immediately connected to April's experience.  Hearing her singing about it was deeply moving to me, as I know it will be to many other women who have been paralyzed in fear of leaving a toxic relationship.  There is strength in shared experience, and combined with the healing power of music, I believe that April's music will be a gift to so many.  We're proud to facilitate the worldwide distribution of her music."
Smith shares, "Coming back to the stage and music was like coming home for me.  A piece of my livelihood was missing that only lyrics and chords could fill.  Lessons I have learned, sometimes the hard way, along this path of life have guided me in my songwriting and have allowed me to connect to others through my songs on a much more personal level. If I can help one person to heal from hurt, smile when they thought they forgot how, and remember that there is this great big world out there waiting to be discovered, then that is true success in my eyes."
"I am glad to represent April.  She's a wonderful and sincere recording artist.  I am confident that with the support of Sallie and Blue Heart Records, music lovers around the world will have the chance to experience April's message," says Cline.
'Enough' is scheduled for worldwide release on April 17, 2020.  Pre-save and pre-orders are now available:   https://orcd.co/april_n_smith_enough.  Visit www.aprilnsmithmusic.com for tour dates, media and more.  Follow @aprilnsmithmusic on Facebook for all the latest news, including a livestream interview and performance on Thursday, March 26 at 8PM Central.
---